Janie Scott, Nuclear Harm Reduction and Climate Justice Manager, Georgia-WAND
Tim Judson, Executive Director, NIRS
This week we commemorate Juneteenth, the holiday celebrating the struggle for Black liberation in the US. Yesterday, Congress and President Biden officially designated Juneteenth a federal holiday. It is so named for the date—June 19th, 1865—when word of their liberation finally reached enslaved people in Texas. They were the last to be so delivered, their oppressors having kept them in bondage more than two months after the confederacy's army surrendered.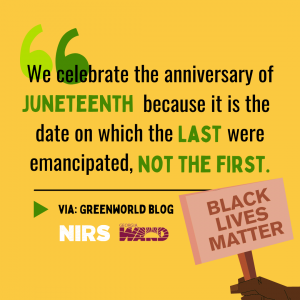 Juneteenth is a statement in itself about collective liberation. We celebrate the anniversary of Emancipation on June 19th because it is the date on which the last were emancipated, not the first. In our national culture, we have a tendency to celebrate events marking the promise of freedom and equality, rather than on their fulfillment; we mark the birth of democratic ideals, rather than their deliverance. We celebrate our independence from Great Britain on July 4th, when the rebel colonists declared it, not when they won it.
Juneteenth stands for the principle that we have not truly achieved liberation if some are left in chains.